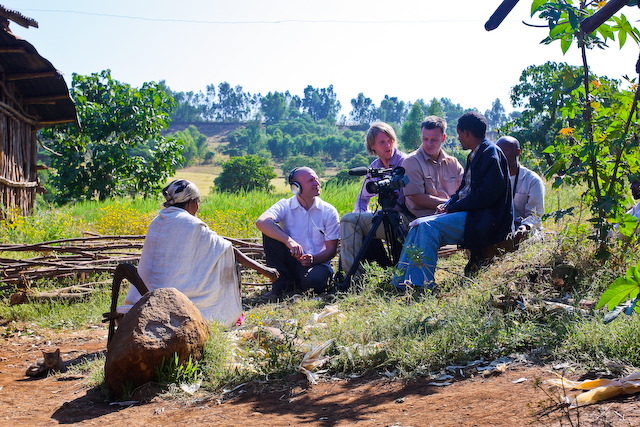 Espen Wang-Naveen, Per Meland and Håvard Melnæs on location in the Gondar Province, Ethiopia.
Per Meland directs TV film for Save The Children
On the eve of International Day Of Zero Tolerance to Female Genital Mutilation in 2008, the Royal Norwegian Embassy and Save The Children Norway-Ethiopia organized jointly a special event with the theme «Is it Possible to Stop Female Genital Mutilation  (FGM) and Other Harmful Traditional Practices (HTPs)?»
The theme of the event was justified by presentations made by four partners of Save The Children Norway, as well as testimonies given by tribal and religious leaders and high government officials. Strategies used that account for the success include: Open dialogue with the community; networking with pertinent government offices such as the police and the court, collaborating with religious and tribal leaders; engaging children and youth in advocacy work, using ex-practitioners as educators; and, more importantly, using interactive radio.
As part of the occasion Dype Skoger and Plastikk produced a 15 minute documentary that highlighted the contribution of the radio in the change process. The documentary was used by UN.