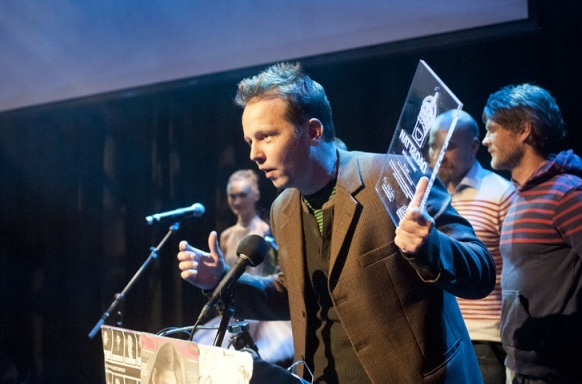 WINNING SPIRIT: Andreas Viestad, Per Meland og Lars Laurentsius tar i mot prisen for årets restaurant. Foto: Maren Sundt-Hansen (for Natt og Dag).
St.Lars wins the Oslo-award 2012
Face2face congratulates the barbecue superiors, the restaurant St.Lars for bringing home "Restaurant of the year-award" at the NightandDay-awards in Oslo last weekend.
When St.Lars opened in Theresesgt. 45 in January 2011, they got bright reviews from the critics and has been highly popular ever since.
-It feels unbelievable! When we started we weren't sure if we had our feet on the ground, but we felt that we were doing something right, says Andreas Viestad happily. The famous chef founded St.Lars together with head chef, Jon Krog Pedersen, Stargate-producer Tor Erik Hermansen and Face2face-founder and chairman, Per Meland.
-Working together with Per has been very inspiring. He´s got an original flair, he knows what's hiding underneath the surface and identifies trends before they become trends. That has truly been invaluable for St.Lars.